Pie Kristapa kunga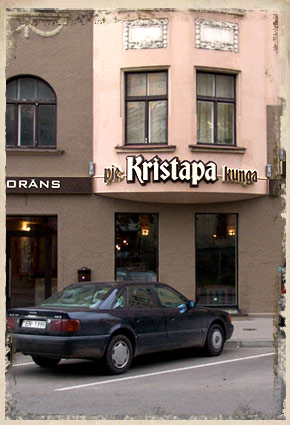 Address
: Baznīcas iela 27/29, Rīga
Location: Center
Phone: +371 67 294 898
Phone: +371 29 512 052 (for reservation)
Phone/Fax: +371 67 294 899
E-mail: info@piekristapa.lv
Opening hours:
Mo., Tue., Wed., Thu., Fri.: 11:00-23:00
Sat.: 11:00-23:00
Sun.: 11:00-23:00
Latvian Cuisine:
1.Grey pea with smoked cottage bacon (the most popular traditional Latvian dish);
2.Oven-baked Leg of pork served with baked potatoes and pickled cabbage saute;
3.Comfit of Duck leg with honey caramelized apple;
4.Boiled ox tongue with pepper-cucumber and horseradish sauce, mashed potatoes and pickled vegetables;
5.Salted herring fillet with cottage cheese, boiled potatoes, pickled onions and greens etc.
.