Mentzendorff's House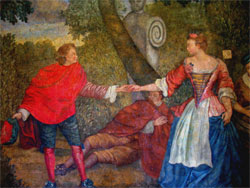 Address
: Grēcinieku iela 18 (entrance from Kungu Str.), Rīga
Location: Old town
Phone: +371 67212951
E-mail: info@mencendorfanams.com
Opening hours:
Mo., Tue.: close
Wed., Thu., Fri.: 11:00-17:00
Sat.: 11:00-17:00
Sun.: 11:00-17:00
Entrance : euro 1,42
Magnificent and original wall and ceiling paintings (17 th –18 th cent.) are the basis of the exposition. A fine selection of interior objects from the Riga Museum of History and Navigation conforms to these colourful visions of the past. Visitors are welcome to visit a shop room, a kitchen with a unique mantel-chimney, a saloon, a dancing hall, a "Poet's room", a family chapel, premises of the owner of the house, a "Young girl's room". As well as, explore the vaults of the historical cellar, and enjoy exhibition up in the attic exhibition hall.