National Museum of Art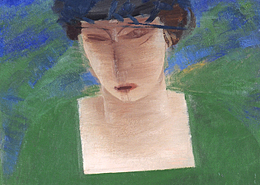 The main building of the LNMA is closed for recontruction till 2016
Address: K. Valdemāra iela 10a, Rīga
Location: Center
Phone: +371 67 324 461
E-mail: pr@lnmm.lv
Opening hours:
Tue.: close
Mo., Wed., Thu.: 11:00-17:00
Fri.: 11:00-20:00
Sat.: 11:00-17:00
Sun.: 11:00-17:00
The museum is closed on all public holidays.
Tickets (adults): Ā from LVL 2
Guided tours in the permanent display and exhibitions in Latvian, Russian, English and German have to be booked in advance by calling (+371) 67 324 461 or writing pr@lnmm.lv.
The Latvian National Museum of Art, which is located at 10a K.Valdemāra Street in Riga, holds the largest collection of national art in Latvia. The museum plays a key role in Latvian cultural heritage, offering a wealth of information about the development of professional art in Latvia. The museum is located in Rigaā€™s so-called Ring of Boulevards, and its building attracts attention with its monumental architecture and with the treasures of Latvian art that are inside its walls.