Folkklubs ALA Pagrabs
Address:
Smilšu iela 16, Rīga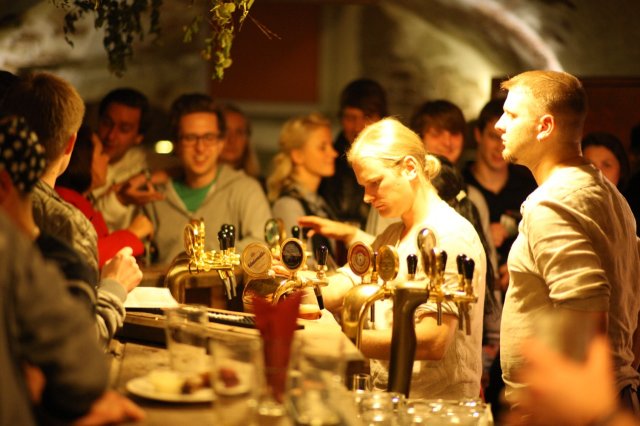 E-mail: info@folkklubs.lv
Phone (bar):+371 27796914
"Folkklubs Ala Pagrabs" (the Folk Club ALA Basement) – A traditional Latvian tavern in the heart of the old town! The first and only traditional musical bar in Latvia! Here, everybody can enjoy traditional Latvian food, listen to traditional music, dance traditional dances and relax in true Latvian style. Our aim is to popularise the traditional Latvian culture, food and lifestyle and make it appealing in the 21st century. The owners are musicians and a chef from both Latvia and Australia, guaranteeing a good sense of humor and an interesting look at culture!
We are unlike any other bar in the old town – live music at least four nights a week, many different concerts with both local and overseas artists as well as traditional folkdance nights in which everyone can participate! This can all be experienced with one of our 14 local Latvian beers on tap and out nouveau and traditional menu – all at a cost that won't burn a hole in your pocket!
At the Folk Club Ala Basement things are constantly changing and adapting to the seasons and there is a great opportunity to see many familiar faces as well as prominent and up-coming artists, musicians and catch a glimpse of the alternative student scene – all in a very relaxed environment.
We offer a range of experiences for tourists and friends from overseas. Here you have the chance to experience true Latvian dining, traditional local wine and beer degustations as well as an afternoon with our head chef, where you are given the opportunity to prepare your own lunch or dinner together and enjoy it with something from our drinks list and live music.
During the day you will hear a large variety of Latvian and world music, as well as songs broadcasted by our friends "Radio Oira" – Latvia's only folk radio. Our guests are able to pass time with our large selection of board games and cards and enjoy our special lunch and dinner offers on weekdays. Our menu evolves and adapts to the seasons with new seasonal offers every month, as well as our live music! We support local produce and therefore buy only local Latvian ecologically grown farmstead products, which guarantee you freshness and quality on your plate! All up-coming musicians and artists are given the opportunity to step up on our stage on open-mike nights every Monday and Tuesday, as well as the opportunity to exhibit their visual works on our walls!