Riga TV Tower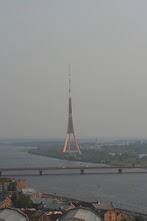 Television Tower of Riga is the highest building in the region and third highest TV tower in Europe. Built in 1980s, it is 368,00 m (1,207.33 ft) above the sea level. This is 3 m higher than the famous Berlin TV tower or 47 m higher than the Eiffel tower in Paris. At the heights of 93 m there used to be "Veja Roze" (Rose of Wind) restaurant. Unfortunatelly, it was closed due to crisis.
The observation deck is open for visitation and excursions:
Spring and summer season from 15 May to 30 September from 10am-8pm every day, including weekends and public holidays;
Autumn and winter season from 1 October to 14 May from 10am-5pm Monday to Saturday.  Group excursions are also accepted on weekends and public holidays.
ENTRY PRICES (visiting the observation deck, includes an overview lecture):
1) adults  LVL 2,60
2) pensioners LVL 1,50
3) children LVL 0,80
4) Professional filming LVL 10.00
Excursions need to book in advance by ringing 7108643.
Individual visitors are welcome without prior bookings.
Groups are able to book an excursion of around 40-45 minutes duration. ¬†During this time the visitors are presented a lecture about the history of the tower, its construction history, structure and its significance in the national telecommunications system. ¬†Visitors are taken to the highest observation deck in Rńęga via a sloping express elevator, where visitors can hear a narrative about Rńęga.
Excursion booking number:  7108643; 29409027
.