It is one of the most attractive public catering enterprises in the world and one of the most favourite places of family recreation in Riga.
1. The Room of Cannons
Show off your skills and precision!
Take up your position beside the cannon before the start. After the signal, load in the ball, aim, and press the button to fire!
This activity is made available for children as well as adults.
2. The Tower
Try your strength and enjoy the panorama, by pulling yourself high up!
This activity is provided for both children and adults.
The lift capacity of the tower's double seat is 180kg.
3.Car Rental
Drive yourself and take your friend for a ride!
With the instructor's assistance, choose the most appropriate car for you! Two persons can participate, one being the driver while the other is the passenger.
This activity is provided for children between the ages of three to ten years.
4.Airplane Carousel
Airplane Carousel gives everyone the chance to feel like a pilot and fly his or her own plane. The carousel is for children aged 5 and up; younger children may ride with an adult.
5. Bungee Jumping
Stunts worthy of a circus artiste? A jump and a somersault while five metres up in the air will seem like nothing to you!
You have the option to learn the basic jumps and perform acrobatic stunts.
This activity is provided for children from the age of four years (weighing above 20kg) and for adults (weighing above 90kg).
6.Velocar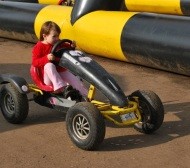 Velocar- Â an interesting and exciting pedal-car velocar track with traffic lights and road signs. You can have a great time racing your friends, or learning the basic rules of the road.
The velocar track is for children and adults.
7. Trampolines 
Trampolines- a set of four trampolines that can accommodate up to eight jumpers simultaneously.
For children and adults.
8.Inflatable Climbing Wall 
An inflatable attraction with a 6 m high slide/slope on the other side. But the only way you can get to it is to climb that wall! A real challenge for adventurous children and adults.
For ages 10 and up.
9.The King of Cans
An exciting and fun-filled activity in which you can try your skills and your luck.
The task is simple: with three throws, knock off ten cans to win the Grand Prize.
10.Swirl Carousel 
A colourful and exciting carousel will spin every visitor into a real windy swirl.
Available for visitors from the age of six years and from a height of 1.20m.
11.The Little Train
Fun, bright and colourful, this children's train has real signals and lights.
Provided for little visitors from three years and above.
If your child does not feel safe alone, he or she may be accompanied by a parent or guardian.
12. Inflatable Attractions
Visitors can enjoy various inflatable attractions, which little jumpers may choose themselves: larger or smaller, with obstacles, stairs and hills, as well as with many extraordinary characters that live inside the attractions.
To vary the entertainment, inflatable attractions will be changed throughout the season.
13.Horse and pony rides.
14.Water Balls
Enjoy the unusual feeling of tumbling inside a huge ball in the water!
Ball diameter: 2m, lift capacity: 150kg.
15.Interactive Shooting Gallery
This interactive (laser) shooting gallery is provided for both children and adults: for anyone who enjoys shooting, for sportsmen, and for hunters. In the shooting gallery there are more than fifty scenes (with an unlimited time or a specific number of shots). Shooting distance: 10 to 150 metres. Guns: rifles, carbines, automatic guns and revolvers, as well as Bereta, Colt, Valter, Makarov and Glock pistols.
16.The Small Panoramic Wheel
A carousel that is both fun and bright, which will lift small visitors up into the sky and will allow them to see the park from high above.
Intended for children from the age of four years and upwards.
If your child does not feel safe alone, he or she may be accompanied by a parent or guardian.
A total of 24 children can spin simultaneously in the carousel.
17."Little Horses" Merry-Go-Round
A retro merry-go-round carousel for small visitors in the park from the age of three years and upwards.
The carousel spins slowly.
.