TIA Hotel
Address:
Kr. Valdemara 63, Riga, Latvia
Location: City Centre
Phone: +371 67 333 918
Fax: +371 67 830 390
E-mail: tia@tia.lv

TIA Hotel is a three star hotel that is located in the very center of Riga, next to one of the most beautiful places of the city, the Old Riga, with its most notable objects of culture, art and leisure as well as nearby major shopping streets of Riga.
.
The hotel comprises 50 well-furnished, cozy accommodations: 6 single rooms, 7 double rooms (one 'Äěking size'ÄĚ bed), 31 double rooms (two separate beds) and 6 apartments (two separate rooms). Furniture in all rooms is made of natural wood. All accommodations are equipped with a shower/bath, hair dryer, TV (cable TV), telephone, safe and minibar. WIFI and cable internet is available.
.
Hotel services: 24-hour front desk, car parking next to the Hotel, WIFI Wireless Internet and cable Internet Access, fax service, conference hall, cafe, air conditioning, elevators, luggages store, laundry service, wake-up service, room service (limited), iron and ironing desk...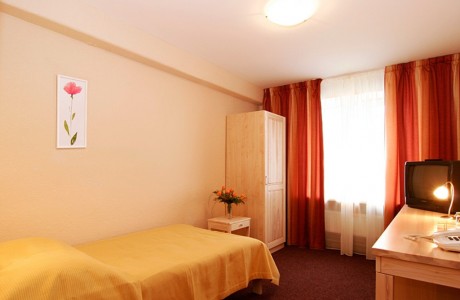 Every morning the hotel cafe serves the 'Äěhot buffet breakfast'ÄĚ and also offers lunch, dinner, banquets for groups and individual orders.¬†For convenience of our guests there is a car park, free of charge and right next to the hotel.
.
Check in: starting from 14:00
Check out: until 12:00
Room rates include: Buffet breakfast in hotel's café, VAT, WIFI or cable internet, crib.
Every next hour after 12.00 in hotel costs 5.00 LVL / 7.00 EUR.
Additional bed in the room 10.00 LVL / 15.00 EUR
Payments: Accepted cards: Visa, EC/MC, Maestro, American Express.
Lower rates and special offers are available for some periods, making reservation through our 'Äěon-line'ÄĚ system.
Accommodation with pets unfortunately is not allowed in hotel.
.